Rest & Reflection
Welcome to the Carmen & Don Godwin Shepherd's Garden at Lovers Lane United Methodist Church. This beautiful site was designed to draw one closer to God, a sacred place to offer prayers, give thanks and remember. Located north of the Sanctuary and south of Shipp Chapel, the garden is reserved during the week and between Sunday services for meditation, prayer and memorial services.
A Special Place of Remembrance
The words of the Lord God to John, I am the Alpha and the Omega, remind us of His omnipresence. He is with us from beginning of life to its ending and beyond. For centuries, loved ones who passed from this life were buried in their churchyards as reminders of this promise that God would be with us eternally. Although the urban environment has made this practice little more than a memory, our garden also houses a beautiful and serene columbarium. This holy place serves as a final resting place for the cremains of our loved ones.
Honor the Good Shepherd, Honor Your Loved Ones
Reserve a space in our Columbarium or purchase a memorial stone or other naming opportunity.
What better place for the ashes of our loved ones to remain or to remember or honor a loved one with a memorial or honorarium.  The Shepherds Garden Columbarium is a  place close to their heart, a special, calm and serene place to visit, to remember, to commune with, and a beloved place of meditation and prayer.   For members, former members and their parents and other family members.
Since one of the most difficult and stressful decisions we make in our lifetime is choosing funeral and cemetery arrangements after a death, pre-planning has become a thoughtful and meaningful gift for those left behind.  Our Columbarium offers a permanent resting place for our loved one's mortal remains.  It provides a place in the shadow of the church that has been central to the lives of our members — a place of beauty and dignity where friends and family can visit and meditate at any time.  Compared to other options, our Columbarium is also a place of simplicity that offers substantial financial savings.   – Rev. Stan Copeland
Below is pricing for niches and opportunities for honorariums and memorials.   If you have any questions, please contact Paul Ditto, Executive Director of the Lovers Lane Foundation, at 214-706-9561 or pditto@llumc.org.
Columbarium Reservations
Each 8" x 8" niche holds two urns. The cost or subscriber fee of each niche is as follows:
Row 9 (Top Row) - $6,500
Row 5 - $7,500
Row 8 - $7,000
Row 4 - $6,000
Row 7 - $8,000
Row 3 - $4,500
Row 6 - $8,500
Row 2 - $4,000
Row 1 (Bottom Row) - $2,000
Reservations require only a 10% down payment with affordable monthly payment plans available. Payment in full is required before the niche can be used.
Memorials and Honorariums
Honor or remember a loved one by dedicating a space in their name. Choose from the following options:
| | |
| --- | --- |
| | Suggested Gift |
| Living Waters Fountain | $200,000 |
| "He Is Risen" Bronze Sculpture | $75,000 |
| Private Family Alcoves* | $30,000 |
| Exodus Bronze Rod and Staff | $25,000 |
| Crape Myrtle Trees | $2,000 |
| Large Planter Pots | $2,000 |
| Benches | $5,000 |
| Backless Benches | $2,000 |
| Engraved Pennsylvania Blue Stones | $2,000 |
* Includes one in-ground niche for two urns . Additional in-ground niches may be purchased for $5,000 each.
Net Proceeds Held in Perpetual Maintenance Fund by Lovers Lane UMC Foundation
To learn more, schedule a time to review your options.
Paul Ditto: (214) 706-9561 | pditto@llumc.org
For members, former members and their families (including parents)
On the Architectural Rendering of the Shepherds Garden below,
hover over any of the numbers shown below
to learn more about that aspect of the Shepherds Garden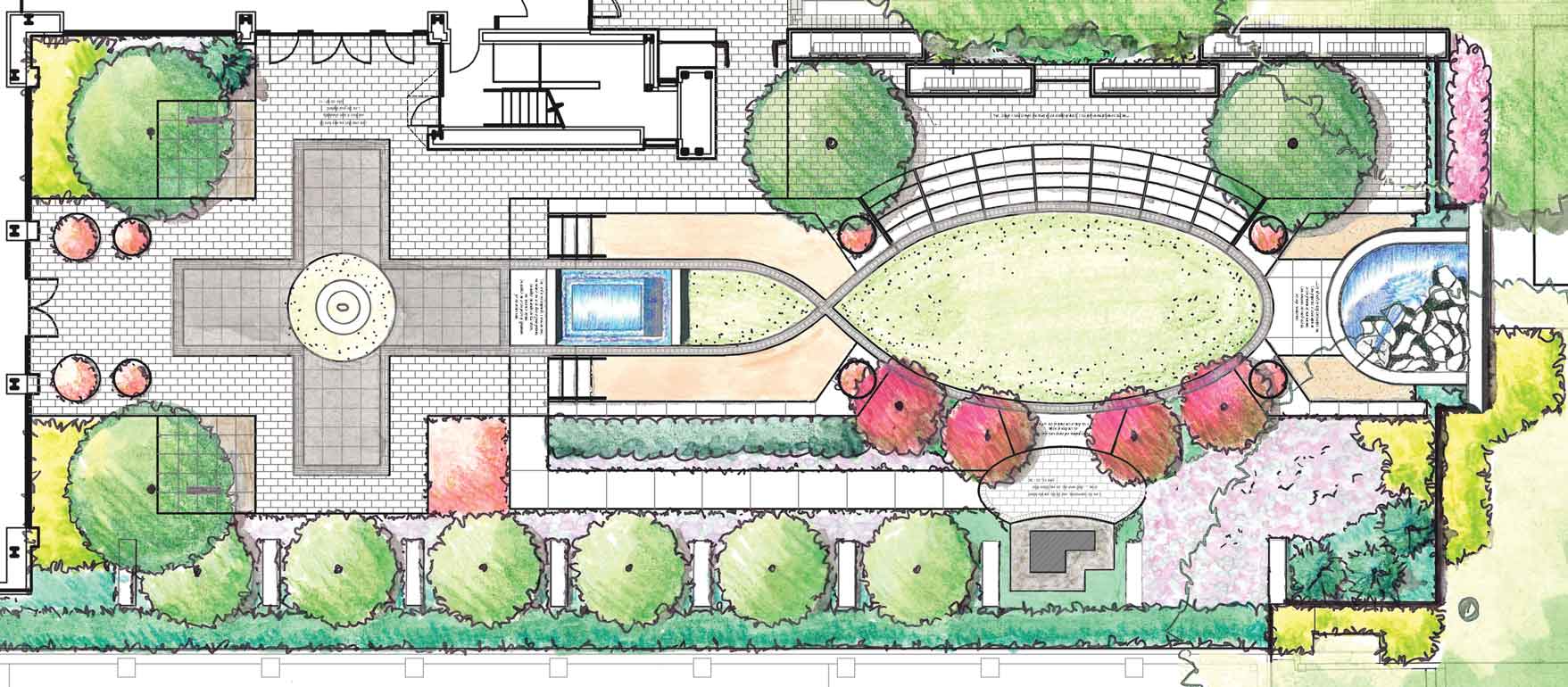 1
Yea, though I walk through the valley of the shadow of death, I will fear no evil: for thou art with me. – Psalm 23:4a
2
"Thy rod and thy staff they comfort me. Thous preparest a table before me in the presence of mine enemies; thou anointest my head with oil; my cup runneth over." – Psalm 23: 4b-5
3
"The water that I shall give you shall be in you a well of water springing up into everlasting life." – John 11:25
4
"I am the resurrection and the life: you who believe in me…shall never die. Do you believe this?" – John 11:25
5
"Surely goodness and mercy shall follow me all the days of my life: and I will dwell in the house of the LORD forever." – Psalm 23:6
6
"The LORD is my shepherd: I shall not want. He maketh me lie down in green pastures; He leadeth me beside the still waters. He restoreth my soul; He leadeth me in the paths of righteousness for his name's sake." – Psalm 23:1-3
7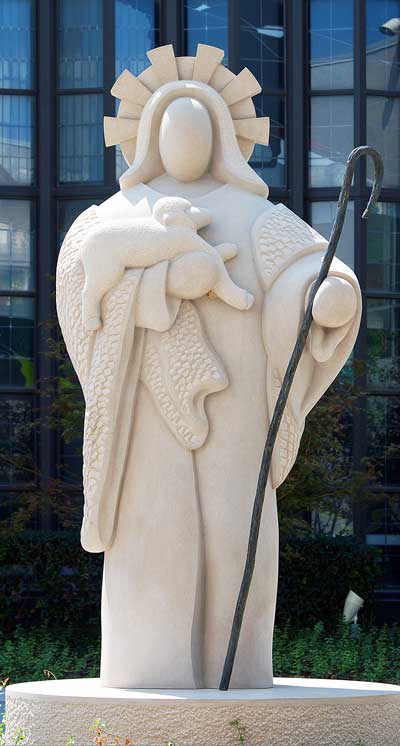 The Good Shepherd statue carries the inscription, "I came that you may have life, and have it abundantly. I am The Good Shepherd." – John 10:10-11
8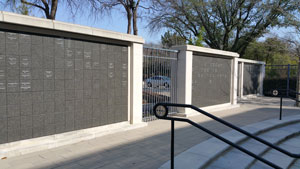 The Shepherd Garden includes a Columbarium where the ashes of loved ones can rest in peace among their friends. Niches range in price from $2,000 to $8,500.