2018 Owen Lenten Lecture Series
---
Featuring Dr. Owen Ross, Director for the Center of Church Development for the North Texas Conference of the United Methodist Church & former founding pastor of Christ's Foundry United Methodist Mission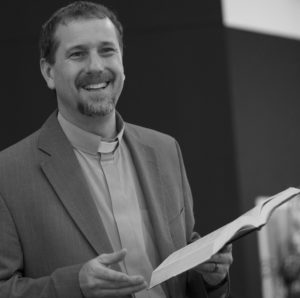 — 3 Days in John 21 —
Tuesday, March 27
John 21:1-3 | DISAPPOINTMENT

Wednesday, April 12
John 21:4-7 | PURPOSE

Thursday, April 13
John 21:8-14 | PRESENCE
12:00 PM | Shipp Chapel | Daily complimentary lunch to follow ~ 12:45 PM
Childcare available with reservation by March 20
Since July 1, 2017, Dr. Owen Ross has been the Director for the Center of Church Development for the North Texas Conference of the United Methodist Church. Prior to this, Dr. Ross served as the founding pastor of Christ's Foundry United Methodist Mission. He moved into the north Love Field neighborhood in Dallas and began knocking on doors in Spring 2002. On Ash Wednesday 2003, Christ's Foundry began worship in his home and grew to averaging over 300 in weekly bi-lingual and Spanish worship in 2016, the second largest Spanish-language United Methodist Congregation in the U.S.
​
A native of the rural East Texas town of Henderson, Dr. Ross has lived in Mexico, Dominican Republic, Canada, Ecuador, and Zimbabwe. He holds a BA with a double major in International Studies and Political Science from Texas A&M University, a Master of Divinity from Perkins School of Theology, Southern Methodist University, and a Doctor of Ministry from Asbury Theological Seminary in Wilmore, Kentucky. His doctoral thesis was Ministry with the Poor: The Role of Social Services in Evangelism.
Dr. Ross is a Return Peace Corps Volunteer, having served in the western lowlands of Ecuador. He did Spanish-language studies in La Universidad de las Americas in Puebla, Mexico. His seminary studies took him to Africa University where he continues to serve as a board member for the Fairfield Outreach and Sponsors Association for the Fairfield Children's Home in Old Mutare, Zimbabwe.
Dr. Ross' passion is to reconnect the church with holistic ministry with the poor as modeled by Christ and the earliest Methodists. A certified coach by the International Coaching Federation, Dr. Ross has worked with churches throughout the United States, Costa Rica, Nicaragua, and Honduras as a consultant and coach, specifically for ministries with non-traditional populations.
Dr. Ross is married to Xóchitl Medina Ross of Mexico, and they have two rowdy boys, Leland and Larkin, both born in 2014.
— Holy Week Music —
Monday, March 26 | 12:00 PM | Shipp Chapel 
Organ recital featuring music of the Wesley family performed by master organist, Dr. Sheryl Sebo
Friday, March 30 | 7:00 PM | Sanctuary
Good Friday Concert: Mozart's Requiem and Ave Verum featuring the Sanctuary Choir, Texas Voices, and professional orchestra
---
Childcare provided Mar. 27-29 with reservation by March 20. Please click the button below and include your child's name(s), age(s) and the dates for which you'll need care.