Take a historic stroll down memory lane and enjoy video from this year's Shipp Lecture Series, kicking off Lovers Lane UMC's 75th Anniversary Celebration
---
75 YEARS OF LOVERS LANE HISTORY IN 7 MINUTES
---
2018 SHIPP LECTURE SERIES VIDEOS
Dr. Callahan delivered the same message to the 8:15 Shipp Worship community, the 9:30 Thrive Worship community, and the 10:50 Sanctuary Worship community.
Sunday, Oct. 14
THRIVE Worship
Sunday, Oct. 14
Dinner Lecture
Monday, Oct. 15
Session I
Monday, Oct. 15
Session II
---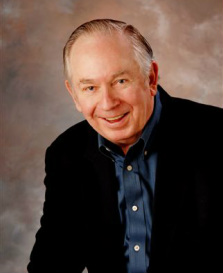 Kennon L. Callahan
Author, researcher, professor, theologian, and pastor, Dr. Callahan is a number one bestselling author and among today's most sought-after speakers and consultants.  Dr. Callahan's newest and twenty-fourth book, Gifts of God …. Possibilities for Something New…. is available for purchase in the Spire Cafe.
Dr. Callahan and his wife, Julie came to Lovers Lane in September of 1958, where he served in Evangelism, Youth, and as Minister of Membership and Stewardship with Tom Shipp.  In September of 1969, they continued their journey to Emory University where Kennon taught for many years.
Since then, he has worked with thousands of groupings around the world and has helped tens of thousands of persons and leaders. His helpful, inspiring seminars are filled with encouragement, compassion, wisdom, hope, and helpful possibilities.
Dr. Callahan's research travels have led him to all of the states in the United States, all of the provinces in Canada, the Arctic, the Svalbard Islands, Norway, Holland, England, Denmark, Sweden, Finland, Estonia, Germany, Russia, Turkey, Greece, Italy, Spain, France, Egypt, Lebanon, Palestine, Jordan, Israel, Mexico, the British Virgin Islands, the Bahamas, Chile, Brazil, New Zealand, Australia, and the Antarctica. His current research interests are in cultural anthropology, philosophy, and human behavior. His recent, specific research areas are: gifts, history, futurism, the universe, and trust.
Author of many books, he is best known for his groundbreaking Twelve Keys to an Effective Church, which has formed the basis for the twenty-four books that are helping many persons, groupings, and congregations across the planet.
---
Books Available for Purchase in the Spire Cafe at Lovers Lane UMC
Twelve Keys to an Effective Church, Revised Edition
This book had its beginnings at Lovers Lane.  The Twelve Keys began to take shape as we studied the possibilities for the future of Lovers Lane (at its former Lovers Lane location). Of the countless long-range planning studies in which Dr. Callahan has participated through the years, Lovers Lane was the first one. The teachings in this book have been extraordinarily helpful with thousands of congregations across the planet.
Freedoms Grassroots Hope
This book shares well the spirit of Lovers Lane as it has moved forward across seventy-five remarkable years.  Lovers Lane is a congregation which encourages persons to grow their strengths, develop their motives, set a pace of life, and live in hope.  Lovers Lane has a grassroots spirit.  Lovers Lane lives in Hope.  Dr. Callahan admitted to learning the gift of hope early at Lovers Lane. Encounter God's hope for yourself!
Gifts of God
Enjoy an incredible adventure as you discover the unique gifts that God has given you and your loved ones. Learn how to implement them in your life now and always.